IM SUCH AN IDIOT!
Im so sorry this is going up so late! As you know, im taking a little blogging break and TOTALLY spaced my hop! But better late than never :) THANKS JESS FOR REMINDING ME! :)
And about the break.. Ill be back up and running soon :)
Monday for sure.
Ill be back to normal :)
------------------------------------------------------------------
WELCOME to week 19 of the Restless BLOG HOP!
If you are unfamiliar with what a hop is, its where you link up your blog, FB, twitter, etc and hop around to the other links, say hi, and find blogs you might like! (As well as be found).
Kind of like one big blogger meet and greet :)
RULES:
Grab this button and place it on your blog for the weekend!
Its smart to make a special post about the hop and talk about yourself or post something fun to draw people in :)
PLEASE be a follower of my blog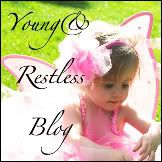 This week i dont have a co-host cuz im an idiot and i want to make sure my co-hosts get full advantages to this hop. And sense its going up so late ill just rotate my co-hosters. Ill email you all to make sure you are aware of when you'll be co-hosting.
IF YOU WANT TO CO-HOST.. EMAIL ME!
(make sure you include a link to your blog)
chrissyann336@yahoo.com

NOW LINK UP! :)
Because i dont have a co-host im relying on you all to spread the word about this hop! :)!
You are all the best!