I think i need to take a break from this blogging thing for a bit?
I dunno a lot has just been going on.. and i feel like ive been mean?
Which has NOT been my intentions.
Maybe i just need to take a step back and revamp?
I dunno i just feel horrible lately.
I also think that ive just been so focused on PLEASING everyone and making everyone happy that ive made a big deal out of little things that grow into bigger things
and good people are getting caught and hurt in the cross fire.
i just need to revamp.
Im so sorry if ive hurt or offended anyone :(
I truly love all my readers and supporters here in this bloggy world and in my real life.
I would NEVER want to hurt anyone in any way.
You are are TRULY the best and keep me smiling when i need it most.
So thank you.
------------------------------------------------------------
Anyway.
On THAT depressing note............ lets get to this hop
WELCOME to week 18 of the Restless BLOG HOP!
If you are unfamiliar with what a hop is, its where you link up your blog, FB, twitter, etc and hop around to the other links, say hi, and find blogs you might like! (As well as be found).
Kind of like one big blogger meet and greet :)
RULES:
Grab this button and place it on your blog for the weekend!
Its smart to make a special post about the hop and talk about yourself or post something fun to draw people in :)
PLEASE be a follower of my blog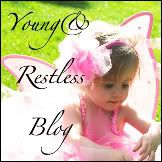 PLEASE be a follower of my co-host
This week's co-host is Melanie from Keeping Up with the Cantelmo's