This linking up thing is hard when i have no way view the blogs that i follow. (ps i can now see MY followers..but my dashboard still isnt working). I had to go to "top baby blogs" to get to the blog that hosts Things i love Thursdays! ahhh so complicated! anywho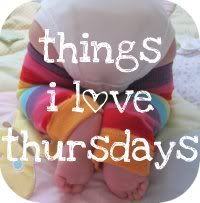 Things i love this week...
*I love that after a stressful LAST week, this week i dont work at all this weekend :)
*i love that i got my mojo back with my workouts
*i love that i have such an amazing hubby who does cute things for me
*i love that i made yummy "healthy" cookies from scartch!
(will do a post on the recipe another day)
*i love that it is raining here in utah and not snowing
(its been snowing)
*i love that i get to see my wifey everyday
*i love that even when im driving down the freeway being a baby about my numb face (dentist) that i can look up and see this crazy girl hanging half way out the car (not even kidding) in the rain with the biggest smile,waving her hands like crazy and know that my wife is this crazy beam of sunshine in my life that makes me so happy :)
*i love that Braylee sleeps so good in her toddler bed
*i love that i am so happy about life right now
*i love all the supportive people in my life
*i love that my mommy let me borrow "the little mermaid" so that Braylee can obsess on a new Disney princess :) Not to mention that was my favorite movie growing up. i think i will watch this movie more than braylee :)
....more to come next week!
vote daily :)